Man vs Food Slider Challenge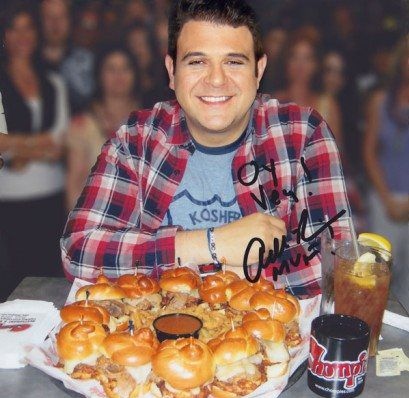 Travel Channel's Man v. Food show host Adam Richman came to Chompie's Tempe location in 2010 to beat the Ultimate Slider Challenge for the show's third season. As it turned out, the Challenge conquered him.

In the show's "Phoenix" episode, which premiered on
Wednesday
July 14, 2010, Adam failed to finish the massive plate of Chompie's twelve Jewish Sliders in 30 minutes.

On the day the episode first aired, Chompie's four restaurants in Scottsdale, Phoenix, Chandler and Tempe sold more than 7,600 Jewish Sliders combined. At one point, the crowd waiting to get into Chompie's Tempe wrapped halfway around the building. Chompie's bakery staff baked an extra thousand challah rolls to meet the demand.

Since then, countless people have attempted the Challenge, but few have been able to finish the five-pound platter of twelve Jewish Sliders and mountain of onion strings in thirty minutes or less to secure a spot on Chompie's "Wall of Fame." Anyone who dares can attempt Chompie's "Ultimate Slider Challenge", which is featured on the dining menu at every Chompie's location. And everyone can enjoy our famous Jewish Sliders. Luckily, they're also available in single portion sizes!

Look for Travel Channel's Man v. Food Season 3 "Phoenix" episode in re-runs, or watch it on Travel Channel's Man v. Food Season 3 DVD (available on www.amazon.com).